Interactive Optimization and Wire-to-Water Efficiency
Interactive Optimization
Save energy and maintain performance.
Systecon's Interactive Optimization addresses all three areas of central plant energy use – distribution, production and heat rejection - so your system runs at peak efficiency. Our integrated controls interface with the chillers, boilers, cooling towers, and pumps so inefficiencies can be evaluated, and adjustments made to minimize power consumption without sacrificing performance.
Systecon is the only modular plant manufacturer to offer chiller plant optimization.
Controls are key when it comes to optimizing the efficiency of your system, and Systecon's central plant controls can give you a major advantage in complete system optimization.
Central Plant Controls
Systecon's central plant controls combine industrial grade programmable logic controllers (PLCs) with a dedicated interface screen and remote interface devices to deliver the most robust systems guaranteed to run without failure.
Using the latest PLC technology available from Allen-Bradley, Systecon's controls can provide unmatched speed, reliability, and redundancy:
Reads all system inputs twice a second, allowing for quick reaction to changing load conditions
Failure rates less than one per 100,000 hours of operation
Offers redundant power supply, processor, and I/O for central plants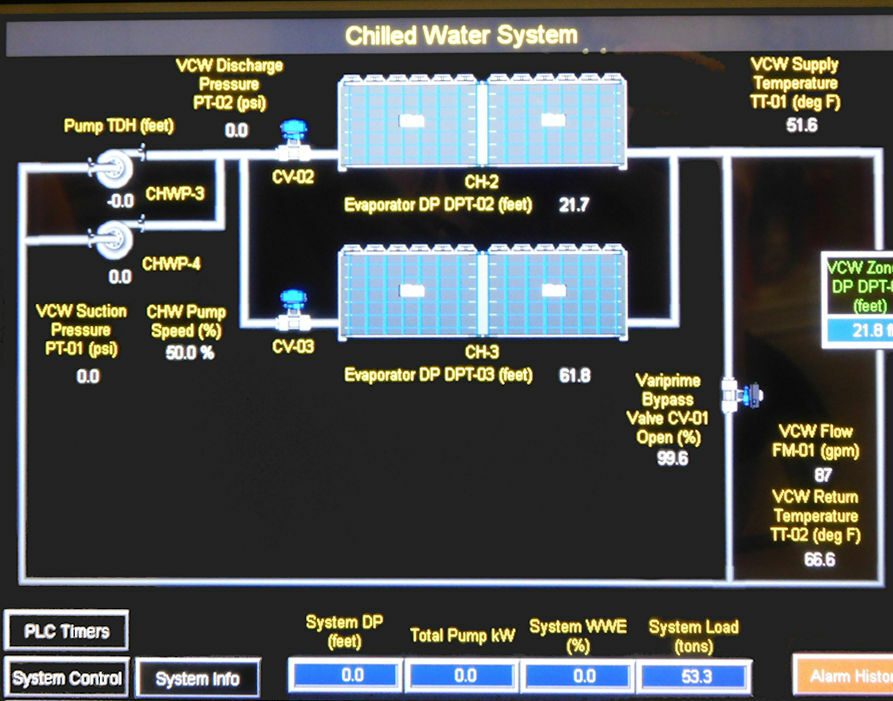 Systecon's human machine interface (HMI) lets you quickly view and adjust the controls of the central plant. Interactive screens allow operators to view the status of the system, locally and remotely, while providing real-time data for each component including real-time trending of electrical use per hour, per day, and per month. Screens are available in a variety of sizes, up to 22 inches, to allow you to see more data points and equipment. And unlike many of our competitors, Systecon's HMI is not used to run operations of the central plant, so it can be used to view training videos, operations and maintenance manuals, and other system documentation.
Systecon controls can be fully integrated with all building automation systems and offer hundreds of points over standard communication drivers such as BACnet, ModBus, N2 and LonWorks. We provide all the control algorithms required for:
Wire-to-Water Efficiency control for pumps
VariPrime® system controls for chillers, towers, and valves
Multiple package controls for distributed and profile pumping schemes
Systecon is a member of the Rockwell Automation PartnerNetwork™ program as an OEM Program Participant. Members of the Rockwell Automation OEM Program demonstrate a commitment to offer high-quality, innovative machines and equipment that help customers improve business agility, optimize productivity, and increase business performance. Through the use of Rockwell Automation products, technology and industry expertise, PartnerNetwork™ members also help end users achieve sustainability and safety-compliance objectives.
Systecon controls are also UL listed, OSHPD (Office of Statewide Health Planning and Development) approved and carry OSHPD OSP-0068-10 for HVAC Control Panels. Plus, all Systecon products are ETL listed which further reduces your risk and provides additional assurance of your system's reliability.
Wire-to-Water Efficiency
Systecon developed Wire-to Water Efficiency (WWE) to determine the best pump selection and sequencing for optimal pumping system performance and efficiency. It's a ratio between the electrical energy input to the pumps and the kinetic energy achieved by this input. Optimizing this value can reduce a pump package's operation costs while still maintaining load requirements. View the brochure.